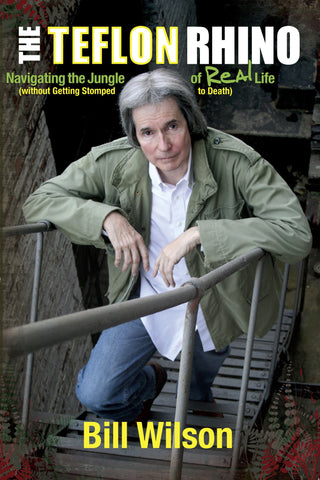 The Teflon Rhino
"It's hard to drain the swamp when you're up to your rear end in alligators." - Bill Wilson
"Be sober, be vigilant; because your adversary the devil, as a roaring lion, walketh about, seeking whom he may devour.
 The Apostle Peter (1 Peter 5:8 KJV)
The first rule of living in the jungle of real life is you have to survive, which means staying off the lunch menu. The rhinoceros (rhino) is a great example. It lives in the contented solitude that does not completely exclude, but selects its companions carefully. It does not rely on the herd for protection. It is not the fastest, strongest, tallest or smartest animal in the wild. It stays off the lunch menu due to its protective skin that is over one-half inch thick. It is extremely difficult to penetrate.
Teflon is a slick coating that has transformed the world due to its nonstick properties, thus The Teflon Rhino. The rhino's skin is slick and thick. It is not swayed by the crowd, coerced by opinion, or motivated by popularity. It does not flinch in the face of adversity or succumb to the fear of the unknown.
My greatest attribute as a leader and a citizen of the real world was birthed in me as an abandoned child.
I am a survivor, and I have written this book as a survival manual for you.
I pray that the survival skills I have learned over six decades of life and ministry will help navigate you through the trials, heartaches, adversity and attacks that real life will bring into your jungle.
Whether or not you believe it, you can be a survivor of the rarest kind. Like me, you can be Teflon Rhino.
---
We Also Recommend